What is considered biowaste?
Biowaste is biological material generated from research, diagnostic, and/or teaching activities during manipulation or clean-up, regardless of its potential to infect humans, plants or animals.
Biowaste may not be disposed of in the regular trash.  Common examples include:
Materials contaminated or potentially contaminated during the manipulation or clean-up of material generated during research, diagnostic, and/or teaching activities requiring biosafety level 1, 2, or 3 or animal or plant biosafety level 1, 2, or 3. Liquid blood and body fluids.
Materials contaminated with human/primate tissue or human/primate tissue cultures (primary and established) because these are handled at BSL-2
Animal blood, fluids and bedding from animals infected with agents requiring BSL2 and BSL3 containment
Biohazard sharps containers
How should biowaste be collected and stored?
Biowaste that may not be disposed of in the regular trash should be collected in red, hard-walled biohazard waste collection containers not to exceed 15 gallons and lined with a clear autoclavable bag.
The lid must remain on the container when not in use (e.g., overnight, etc.).  The lid and container each must bear the biohazard symbol with the word "Biohazard." Biowaste containers including biohazard sharps containers should only be filled 2/3 full.
One example is a red 5 gallon bucket with a lid that has biohazard labels prominently posted on both the bucket and the lid.  Other examples available from the MarketPlace are listed here; please contact the EHS biosafety office if you have suggestions for updating this list.
Liquid biowaste such as spent culture media should never be allowed to sit for longer than 24 hours.  Use the liquid cycle to autoclave the liquid.  Chemical disinfection of liquid biowaste must be listed on your Biological Use Authorization form for IBC approval.  See Chapter 8 "Biowaste Management" of the NC State Laboratory Biosafety Manual for more on liquid biowaste disposal.
How should biowaste be removed?
Biowaste generated at NC State University in Raleigh requires autoclave treatment prior to disposal in designated red dumpsters.  See below for more information on proper autoclave treatment, validation, and documentation.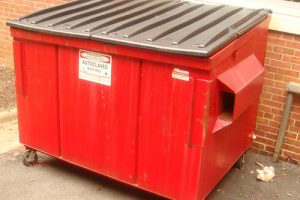 Red Dumpsters
These containers are clearly labeled for this purpose and located near the larger solid waste (trash) dumpsters outside of buildings containing autoclaves. If no red dumpster is available or for treatment and disposal of biowaste off Raleigh campus, contact Environmental Affairs at env-health-haz-waste@ncsu.edu.
What if I don't have an autoclave to treat my waste?
For instances when biowaste may not be autoclaved, submit for pick-up in EHSA. EH&S picks up biowaste on an as-needed basis once submitted.  This may be appropriate if an autoclave or other means of treatment is unavailable or if the biowaste is not located on Raleigh campus. This solid waste must be double-bagged and weigh less than 25 pounds.  It must be tied shut/closed and placed in a secondary container.
Non-autoclavable biowaste may include animal carcasses/tissues/parts, genetically modified organisms (GMO's), sharps (scalpels, razorblades, needles/syringes, etc.), lab debris/PPE used when handling biologicals, and radioactive biologicals. Additional considerations for waste that should not be autoclaved are available on the Raleigh Campus Biowaste Disposal Flow Chart.
What is required for validation of autoclaved waste?
Compliance with state law and local authorities dictates all biowaste at NC State University in Raleigh be treated for a minimum of 45 minutes at 121oC (250oF) at 15 psi.  Each load of biowaste processed in an autoclave must meet these operating conditions and be tested according to the Autoclave Performance Verification procedure located in the NC State University Laboratory Biosafety Manual .
EHS has developed an Autoclave Performance Verification Log for Biowaste that contains all requirements including an order number to be used through MarketPlace for the 3M SteriGage Test Packs that are required.
Safe use of autoclaves?
Review Autoclaves for set up and training requirements
Can I use red/orange biohazard bags?
No. Use clear biohazard bags for autoclaving.  The red/orange biohazard bags are no longer allowed at NC State.   These biohazard bags may not be placed in regular dumpsters or trash receptacles, even when disinfected.
How do I dispose of biowastes in preservatives such as formaldehyde?
If waste tissue is held in a liquid preservative (formaldehyde/formalin, Carosafe, alcohol, etc…) the tissues and liquid must be separated and submitted separately for disposal. The preservative is handled as chemical waste and cannot be disposed via sanitary sewer systems. EH&S can provide a container for bulk quantities of preservative if needed.
Do I submit biowastes for pick up on Haz-Track if I generate them at the CVM?
Biowaste generators at CBC/CVM (Vet school) do not submit their biowastes for pick-up through Haz-Track.  They can dispose of them directly by carrying them over to the orange/red biowaste roll off dumpsters located at necropsy, and fill out the paperwork there required by the Vet school for biowaste disposal.
What if I can't autoclave my biowaste?
If the waste material cannot be decontaminated, place it in a biohazard bag for waste pick-up and disposal by EH&S. Biological wastes that are not autoclavable are disposed of through EH&S at the Centennial Biomedical Campus (Vet school). This is done by filling out a waste pick-up request in Haz-Track, which can be done through the EH&S homepage or by clicking on the Haz-track link.
Where can I find more information on this topic?
Refer to Chapter 8 "Biowaste Management" in the NC State Laboratory Biosafety Manual for general guidance.  For questions, contact the biosafety staff in Environmental Health and Safety.
Does the lead in my autoclave tape have to be disposed of as a separate hazardous waste?
Review this Lead tape factsheet to determine the requirements on lead in autoclave tape.